このページは未翻訳の部分があります。
こちらを参考に翻訳を行い、記事を完成させましょう!

ハウンド(猟犬・追い回すもの) は、一定期間毎に現れるオオカミのような獣です。現れると、落ちている肉よりも優先して、どこまでもプレイヤーを追いかけて攻撃してきます。 アイススタッフ(Ice Staff)を2回あてると凍ります。
ハウンドが現れる前に、うなり声が聞こえてきます。プレイヤーのキャラクターは「聞こえた?」としゃべりますが、キャラ毎に台詞は違います。キャラクターが2回目のつぶやきをしたあとに、ハウンドは襲ってきます。何をしていても、季節も夜も関係なく、ハウンドは襲ってきます。死んだら3日はリスポンしません。
ゲームが進むにつれ、出現するハウンドの数が増えます。(詳しくは下記参照)
レッドハウンド/赤猟犬(Red Hound) は夏の間、 冬の間は、ブルーハウンド/青猟犬(Blue Hound) になります。
ハウンドはプレイヤーより早く移動できるため、逃げきるのは難しいです。プレイヤーがなんとかして遠くに離れた場合、ハウンドは突撃するのやめて、プレイヤーのほうへブラブラしながら近づきます。
ほかのモブ(豚(Pig)と 半魚人(Merm))は、ハウンドを見つけると即、攻撃します。
Red Hound

編集
レッドハウンド(Red Hounds)はハウンドのレア種で、フレイムハウンド(Flame Hounds)、ファイヤーハウンド(Fire Hounds)、ヘルハウンド(Hell Hounds)とも呼ばれます。レッドハウンドはハウンドよりも弱いですが、攻撃した相手を燃やす能力を持っており、死ぬときも炎を撒き散らします。これによって周囲の物は炎上し、灰になってしまうのです。
通常のハウンドと同じく氷の杖で凍らせるのに2発分が必要です。倒すとたまにレッドジェムを落とします(アミュレット、ナイトライト、炎の杖の材料となります)。
レッドハウンドは自然発生しませんが、ハウンドの攻撃中に現れることがあります。出現確率は徐々に上がっていき、100日を過ぎた時点で50%になります(詳細はハウンドの発生をご覧下さい)。 たまに、炎の杖を取り囲んで眠る4~5匹のレッドハウンドを見かけるでしょう。これはセットピースのひとつ炎の杖の罠で、喜び勇んで杖を拾ったプレイヤーに一斉に襲いかかってくるのです。
Blue Hound
編集
ブルーハウンド(Blue Hound)は冬に出現するハウンドの変種で、アイスハウンド(Ice Hound)とも呼ばれます。
倒すとたまにブルージェムを落とします(氷の杖の材料となります)。また通常のハウンドと違ってハウンドの牙を必ず2個落とします。
ブルーハウンドは自然発生しませんが、ハウンドの攻撃中に現れることがあります。出現確率は徐々に上がっていき、100日を過ぎた時点で50%になります(詳細はハウンドの発生をご覧下さい)。
たまに、氷の杖を取り囲んで眠る4~5匹のブルーハウンドを見かけるでしょう。これはセットピースのひとつ氷の杖の罠で、喜び勇んで杖を拾ったプレイヤーに一斉に襲いかかってくるのです。
Reign of Giants
編集
Reign of Giantsでは死亡の際にDeerclopsと同じ凍結効果を周囲に与えるようになりました。
Spawning(発生について)編集
経過日数
次の襲撃
ハウンドの数
声が聞こえてから出現までの時間
出現の間隔
赤・青ハウンドの割合
~6日目

(6日 - 今日) days + 0~4 days

2体
120 秒
3 + 0~5 秒
0%
15日目~20日目
3 ~ 4 体
10%
30日目~50日目

3 + 0~10 日

60 秒
2 + 0~3 秒
20%
~60日目
3 + 0~8 日
4 ~ 6 体
30 秒
33.3%
~75日目
0.5 + 0~3 秒
50%
~100日目
100日目~

3 + 0~5 日

7 ~ 12 体
30 秒
0.5 + 0~1 秒
モブがスポーンする方法の仕様のため、個々のハウンドのスポーンは時々失敗(海の上などの無効な場所に発生した場合)することがあります。そのためハウンドの発生数が通常より少ないことがあります。
Hounds are naturally aggressive, but easily distracted as they will attack all creatures on sight. Hounds will immediately charge the player when they spawn during a Hound attack. After a while, they can become distracted by nearby Mobs or Meat.
If a Hound's target is completely surrounded by Walls, they will attack the Walls in an attempt to reach their target. If there is breach in the Walls, Hounds will run through it.
In Reign of Giants, regular Hounds can spawn from Hound Mounds. These Hounds will only stray a certain distance from their Mound, but if they spot the player, they will chase them considerable distance. Hounds will retreat to their Mounds if they are unable to catch their prey.
こちらも参照:Hound Wave Survival Guide または Hound Repelling

以下はそれぞれの武器で何度攻撃すればHound を倒せるかを表にしたものです。 (Weather Pain は攻撃を与える回数がランダムなので省いています。)
| Weapon | | | | | | | | | | | | | |
| --- | --- | --- | --- | --- | --- | --- | --- | --- | --- | --- | --- | --- | --- |
| No. of hits for | 36 | 12 | 9 | 6 | 5 | 5 | 4 | 3-6 | 3 or 4 | 3 | 3 | 2 | 1 |
| No. of hits for | 24 | 8 | 6 | 4 | 4 | 3 | 3 | 2-4 | 2 or 3 | 2 | Immune | 1 | 1 |
| No. of hits for | 24 | 8 | 6 | 4 | 4 | 3 | 3 | 2-4 | 2 or 3 | 2 | 3 | 1 | 1 |
編集者より
編集
ワンポイント編集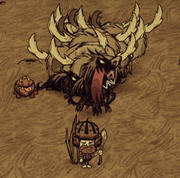 2 or 3 Hounds can usually be defeated, without issue, by using a Spear, Log Suit, and Football Helmet. A player can even tank the damage when kiting is not an option.
Hounds are easily distracted. As such, many strategies involve leading Hounds to other Mobs.

Lead Hounds to a Marsh where the resident Tentacles, Merms, and Spiders can aggro on the Hounds. This can also be a good way to get Tentacle Spikes, Tentacle Spots, Monster Meat, and other loot.
Lead Hounds to Frog Ponds where Frogs will swarm their target when just 1 is attacked. Red Hound explosions cannot destroy Ponds, so no resources are at risk. Frogs do not eat Meats, so you can recover all loot including any Frog Legs the Hounds did not eat.
Lead Hounds to Treeguards where large and medium Treeguards will kill Hounds in one hit. Beware of Red Hounds; they can set Treeguards on fire, who in turn can wander around and set other things on fire.
Lead Hounds to a Killer Bee Hive (or attack a Beehive to spawn Killer Bees). The Bees may take a while to change targets if aggroed by the player, but will prioritize Hounds that have attacked them.
Lead Hounds to a herd of Beefalo and run through (or around) the herd until a Beefalo gets bit. The herd will easily kill a Hound.
Some more places or creatures one can lead Hounds to are Spider Dens, Spider Queens, Pigs, Lureplant and Rock Lobsters. The latter isn't recommended as the Lobsters will eat the valuable Fire and Ice Gems. Keep in mind that Red Hounds may burn down any nearby structures or resources.

Leaving any type of Meat on the ground can distract Hounds that are chasing the player. The Hound will do its attacking animation when it eats, but the player won't take any damage if they are nearby.
One can create a walled-off area with an entrance filled with Tooth Traps. Incoming Hounds can be funneled through the entrance, killing off most, if not all. A Fire Pit and other supplies can be kept inside for night attacks.

Hounds and Red Hounds were added in the The Birds and the Bees & Dogs That Want to Kill You update.
Blue Hounds were added in the A Winter's Tale update.
According to Wickerbottom, a Hound's Tooth contains brimstone, also known as sulfur. In folklore, sulfur is often associated with demons, implying that the in-game Hounds are Hellhounds, a supernatural dog common in some mythologies or beliefs.
The Red Hound is available for use on Steam as a chat emoticon.
Red Hounds are the only Mobs that take 16 hits from an Ice Staff to be frozen - the maximum for most Mobs is 4.
Even though Red Hounds cannot be set on fire, they still take fire damage if they come into contact with it.
When Red Hounds are inspected by Maxwell, he reveals that he "put gems in there as a joke". This implies that the notable traits of the Red Hound, such as its red color and spontaneous combustion upon death, are due to the presence of the Red Gem in its body.
Maxwell comments that he had a lot of surplus Gems when examining Blue Hounds. This reveals that the freezing resistance Blue Hounds have is caused by the Blue Gems in their body. This may also have caused their "blue" fur, although the grayish teal coloration they sport is a common pigmentation in many real-life mammals, especially those living in cold climates.
The Blue Hounds have a dark blue nose when awake. Should they fall asleep, however, then their nose will change to the colour of an ordinary hound's nose.
Saving the game when the Hound attack warning begins and then loading that save will cause the attack to become bugged. The Hounds will arrive extremely late, up to 7 days, and the warning will persist indefinitely, making the player unable to use Tents and other items that require a "safe" condition.
Occasionally, dying in a Cave and getting resurrected on the surface (perhaps when Hound attacks are supposed to begin) will cause the growling and snorting sounds to play in half-day intervals while the character remarks that the Hounds are coming, but they will not appear until a Hound attack in 3–10 days, where the warnings properly play close together.
Sometimes, Hound attacks will 'reset'; the growling warning will last longer and only two normal Hounds will spawn, just as the first Hound attack.
Saving and exiting the game during a Hound attack, and then loading the save will cause all of the Hounds to become temporarily distracted.
Occasionally, when a Shipwrecked and Reign of Giants world are merged, a hound attack may occur every time the player reloads the game.
ギャラリー編集